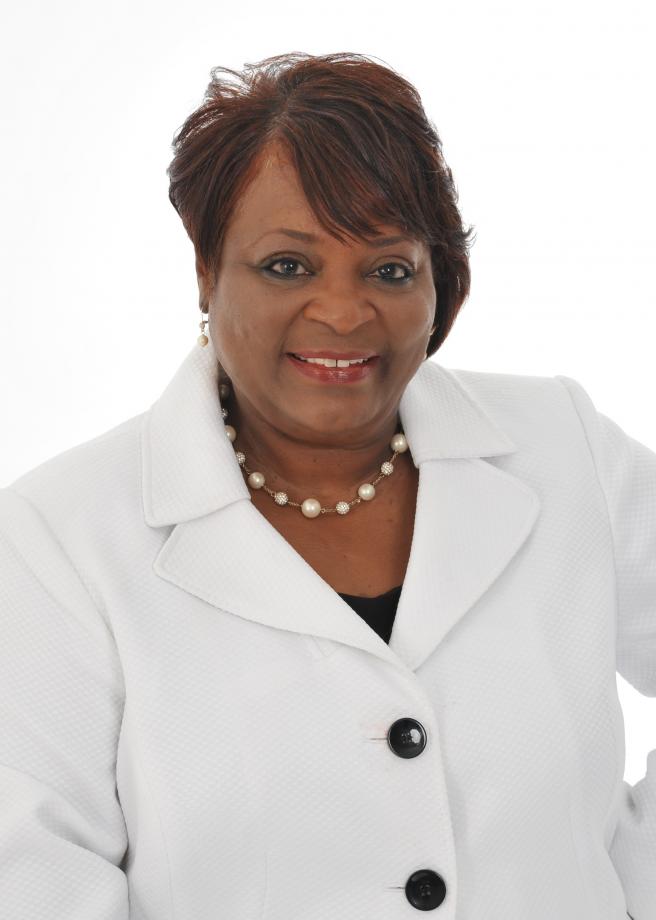 Pastor's Wife - Sister Cynthia Diane Perkins Smith
Cynthia Perkins Smith is a proud native Alabamian. She is fifth of nine siblings born to the late Newt and Callie Perkins of Bessemer, Alabama. She received her early education in the Bessemer Public School System. There she was nurtured in a loving home greatly influenced by her mother, Mrs. Callie Perkins. Considering all her accomplishments, Cynthia contributes all to her personal relationship with God since early childhood. Her favorite passage is I Corinthians 13th Chapter which she learned as a child. Cynthia earned a Bachelor of Science Degree from Miles College in Birmingham, Alabama and continued studies at Dillard University in New Orleans, Louisiana.

Mrs. Smith has taught in the Catholic and Public School Systems for several years both in Alabama and in Michigan.

She served thirteen years as president of the Michigan District Baptist Association Minister's Wives and Widows and ten years President of the Woman's Auxiliary of the Michigan District Baptist Association.

Sister Smith is serving her fifth year as President of the B. M. & E, State Convention, Women's Ministry. She has chaired and co-chaired the Annual Parade of Roses Scholarship Luncheon, served as an Instructor for the B.M. & E. State Congress of Christian Education and Convention, eighteen years of teaching the Minister's Wives and Widows of the National Baptist Convention, Congress of Christian Education and more than a decade on the Oratorical Commission of the Congress. In January 2015, she was appointed Midwest Region Vice President of The National Baptist Convention, Woman"s Auxillary. In January 2017, President, Dr. Jerry Young appointed Cynthia President of the Woman's Auxillary.
When she speaks – people listen, because they do recognize the anointing on her life.

Sis. Smith is a member of the historic New Bethel Baptist Church in Detroit, Michigan. Under the leadership of her husband/pastor, Rev. Robert Smith, Jr. , she is former Director of the Children's Ministry (18 years), and served as Kindergarten Sunday School Teacher in the Children's Division for twenty five years. She is actively involved with the Christian Education Commission, the Women's Ministry and Mission Ministry. In 2007 she organized and facilitates the growing Tuesday Noon, Hour of Power Bible Study Group.

Cynthia was privileged to attend the Baptist World Alliance, Women's Leadership Conference in Johannesburg, South Africa and The World Congress in Durban, South Africa in July 2015. She has received many accolades and honors including the "Grace A. Cobb Missionary Award", The Michigan Chronicle Salute to First Ladies Award and the B.M.& E. State Convention Ushers Speaker's Award.
Special speaking privileges include Nassau, Bahamas; Frankfurt, Germany; Brooklyn, New York; Houston, Texas; The All Baptist Assembly in Raleigh, North Carolina and the National Baptist Convention held in New Orleans, Louisiana and Nashville, Tennessee.

Sister Smith and Pastor Robert Smith, Jr. celebrated their 44nd Wedding Anniversary in December 2016. They have four adult children. Sherique, Condeeridge. Terique and Erma (god-daughter). The joys of her life are her grandchildren, Joshua, Austin, Grace and Lauren.

The Expression of God's love is demonstrated in the person of Sister Cynthia Diane Perkins Smith. You can read more about Sis. Smith's journey in her autobiography, "Just Let Me Tell You".